Plans for the Whitehall property are beginning to emerge. An "illustrative master plan" has been presented to City officials, and briefings on the plan provided to the Sea Island Coalition and Coastal Conservation League.
The developers will be before the Metropolitan Planning Commission (MPC) Monday night to review the plan, and are proposing a special zoning classification that would have the effect of increasing the permitted density for the Whitehall property. See the MPC agenda here.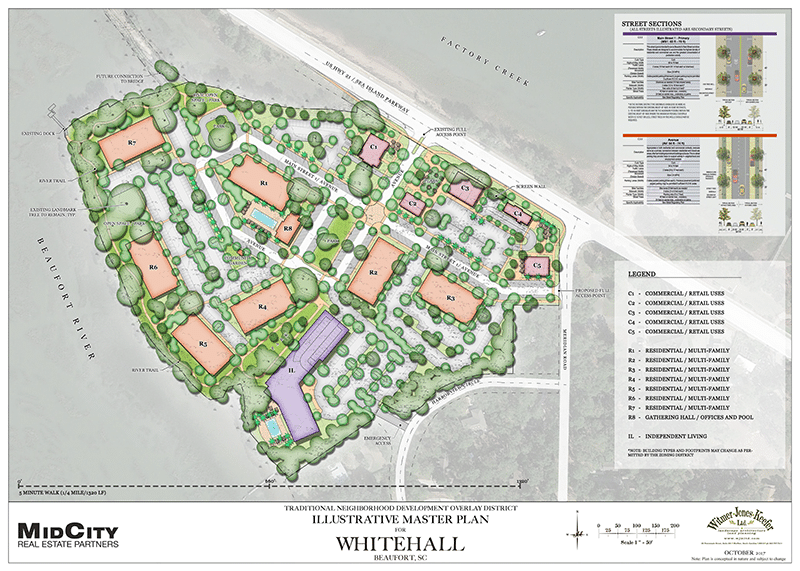 The plan being discussed provides for a mix of commercial/retail space along the Sea Island Parkway, with the interior of the property given over to residential apartments and an Independent Living facility.
In a significant departure from earlier plans, MidCity Real Estate Partners, from Atlanta, will own the property but will develop it in concert with Sam Levin of Beaufort and partners in a new Whitehall Development Group.
Levin grew up in Beaufort, attended Beaufort Academy, and spent most of his professional life in Charleston before returning to live in Beaufort several years ago.
Operating like a partnership, MidCity will take responsibility for development of the commercial portion, and Levin's firm for the residential and independent living component. The same architectural and engineering firms are being used to ensure a unified look and feel to the properties; the "look" is expected to be a "mix of southern and contemporary." Renderings of the buildings and post-development site views are being prepared and are expected to be available soon.
Developers have reached an agreement to cede one acre of the parcel to the city for a park that will provide pedestrian continuity with the Woods Memorial Bridge, and will provide an easement that provides public access along the riverfront. MidCity Partners says that the open area, including park, river trail, interior parks and buffer along Harborview Circle, exceeds 22% of the total side, an area of 4.18 acres.
16,868 S.F. Of Commercial Space
Commercial space is planned as five stand-alone buildings ranging in size from approximately 2,000 square feet to 6,000 square feet. Kirk Demetrops, of MidCity Partners, said he expects two-thirds of the commercial space to be occupied by restaurants, and the remaining third by various service businesses catering in large part to adjacent apartment residents. As of now, the commercial structures are expected to be one and one-half ("tall one-story") or two stories in height, with quality architectural detail on all sides of each building. In the plan, the commercial/retail buildings are sited in such a way that they are visible from all sides, making consistent finishes important. The buildings have been "scattered" along the Sea Island Parkway frontage to give each an individual identity, and avoid a sense of "cookie cutter" development.
---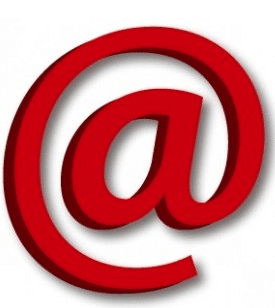 What Do You Think?
Tell us what you think of this plan for Whitehall. Read this entire post, then click here
to e-mail your comments to whitehall@seaislandcoalition.com   We will deliver all comments
to the Metropolitan Planning Commission Monday evening.
This meeting is open to the public. Beaufort City Hall, Monday, Oct 16, 5:30 p.m.
---
Seven Apartment Towers
The seven residential apartment towers – each four stories high – comprise a total of 240 one, two and three bedroom apartments. Apartments are planned as "high end" residences, with typical rents of $1.60 to $1.65 per square foot, or approximately $1,600 per month for a 1,000-square foot apartment. The buildings will be built to LEED (Leadership in Energy and Environmental Design) standards, and will feature a range of high-tech systems including fiber optic communication throughout. A smaller, eighth structure, will serve as a "gathering hall," and provide space for offices, pool support and resident storage for bicycles, etc. All of the seven major structures will be elevator serviced, eliminating the need for exterior staircases.
Independent Living Facility
The ninth structure will be a three-and-four story, 100-unit independent living facility built as part of the property but managed by an outside firm.
The developers are quick to point out the difference between Independent Living and Assisted Living. The proposed Independent Living facility is aimed at aging individuals still fully-capable of their own care, but who wish to live in a group setting rather than a single-family home or apartment. Units are fully furnished with kitchens, for example, but if a tenant wishes not to prepare his or her own meals, they can be taken in a facility's dining room. According to Levin, professional healthcare staff will not be employed on the site as part of the Independent Living scheme.
Another local Levin project is The Retreat at Lady's Island. This is one of five such projects in which Levin is currently involved, and comprises an 85-unit assisted living/memory care facility on Sea Island Parkway expected to open mid-December.
Trees
One of the most significant aspects of the Whitehall site is its tree cover, and a number of protected "Grand Trees."The development group says it has not only done the required tree surveys, but has done a health assessment of each tree on the parcel in an effort to save as many trees as possible. In addition, it worked carefully with land planners to site structures in such a way that minimum tree removal was necessary. Developers say that due to this work, it will be able to retain some 90% of the Grand Trees at Whitehall, and will add significant numbers of new trees as part of landscaping plans.  Click here to see Whitehall Tree Survey  On the survey, GREEN indicates trees with slight defects having an improbable likelihood of failure; ORANGE indicates trees with moderate defects having a possible likelihood of failure; BLUE denotes trees with severe defects having a probable likelihood of failure; and RED indicates trees with critical defects having an imminent likelihood of failure or existing dead trees.
Traffic
Traffic on Lady's Island east of the Woods Memorial Bridge does not go away under the plan.
According to a newly-completed  Whitehall Traffic Study an estimated 2,266 daily new external vehicle trips will be generated by Whitehall-related traffic. These traffic figures are approximately 20% greater than those calculated by Stantec in its Lady's Island Corridor Study, which did attempt to estimate new traffic impacts from Whitehall. Stantec officials point out, however, that since no details of development at Whitehall were available at the time of its Lady's Island study, it made assumptions based on a mixed-used development involving both commercial and single-family properties. As such, these numbers cannot be compared as an "apples-to-apples" basis with those in the MidCity analysis.
But not all traffic will end up on the Sea Island Parkway, as a proposed exit from the property on Meridian Road is likely to absorb some traffic moving across Meridian Road toward Lady's Island Drive.
The recently-completed Lady's Island Corridor Traffic Plan reported an approximately 30% increase in traffic volume along the Sea Island Parkway from 2014 to 2016. The bridge itself is near-capacity, with nearly 19,000 daily vehicle trips traveling between Lady's Island Drive and Meridian Road (and most of those continuing over the bridge), according to SC DOT traffic counts. Any new development at Whitehall will add to these numbers.
Stormwater Management
SC Department of Health and Environment Control (DHEC) regulations require that new development causes no additional stormwater release (zero-release) to rivers, creeks or marshes. New impervious surfaces (such as buildings, streets and parking lots) change the release profile of stormwater in a given location, and potentially channel new and excessive fresh water into salt water bodies. Whitehall developers are planning to meet this regulation through the use of large, underground retention tanks to hold rainwater captured from buildings and parking lots, and release it to the Beaufort River on a schedule designed to mimic normal rainfall levels on undeveloped land.
* * *
About The MPC
The Beaufort – Town of Port Royal Metropolitan Planning Commission (MPC) is a six-member board. Two of the members are appointed by the City Council; two members are appointed by the Town of Port Royal Town Council; and two members are appointed by the County Council.  After two years, the membership changes to three members from Port Royal and two members from the City of Beaufort.  The MPC has the following powers and duties:
Prepare and periodically revise the comprehensive plan;
Review and take action on street names;
Review and take action on cluster development;
Review and make recommendations on Planned Unit Development master plans;
Review and make recommendations on public projects;
Review and make recommendations to the City Council in regard to amendments to the text of the Unified Development Ordinance (1.06Mb);
Review and make recommendations to the City Council in regard to amendments to the Official Zoning Map;
Review and approve preliminary subdivisions plats for Major Subdivisions.
Members of the Metropolitan Planning Commission are:
Joe DeVito – Port Royal (Chairman)
Judy Alling – Port Royal
Bill Harris – Beaufort
Caroline Fermin – County
Tim Rentz – Beaufort
Robert Semmler – County