"Lady's Island Area Plan" Underway
At last Friday's Northern Regional Plan Implementation Committee (NRPIC) meeting, county planner Rob Merchant detailed the approach and announced members of a steering committee for the "Lady's Island Area Plan."
According to the County's RFP, "The plan builds on existing plans, policies and studies including the Beaufort County Comprehensive Plan, the Beaufort County Community Development Code, the City of Beaufort Civic Master Plan and the Lady's Island Transportation Study. The findings and policies of these documents that are relevant to Lady's Island will be compiled and integrated and used as a starting point for creating a cohesive vision for the island…While the plan scope includes all of Lady's Island, a majority of the work will focus onLady's Island's business district and adjoining neighborhoods."
The effort will be managed by County planning staff working with planning consultants McBride Dale Clarion of Cincinnati. A 10-member steering committee will monitor the effort and help gather community input. Members of the steering committee as approved by NRPIC include:
Northern Beaufort County Regional Plan Implementation Committee (Chairman)

Coastal Conservation League

Sea Island Corridor Coalition

Lady's Island Business Professionals Association (LIBPA)

Beaufort County Planning Commission

Metropolitan Planning Commission

Lady's Island Community Preservation Committee

Representative from St. Helena Island

Representative from Beaufort County School District

Representative from Metropolitan Planning Commission
The planning effort is expected to take six months' time.
Open Land Trust Unveils Economic Report This Week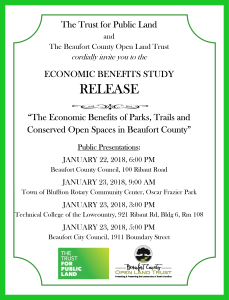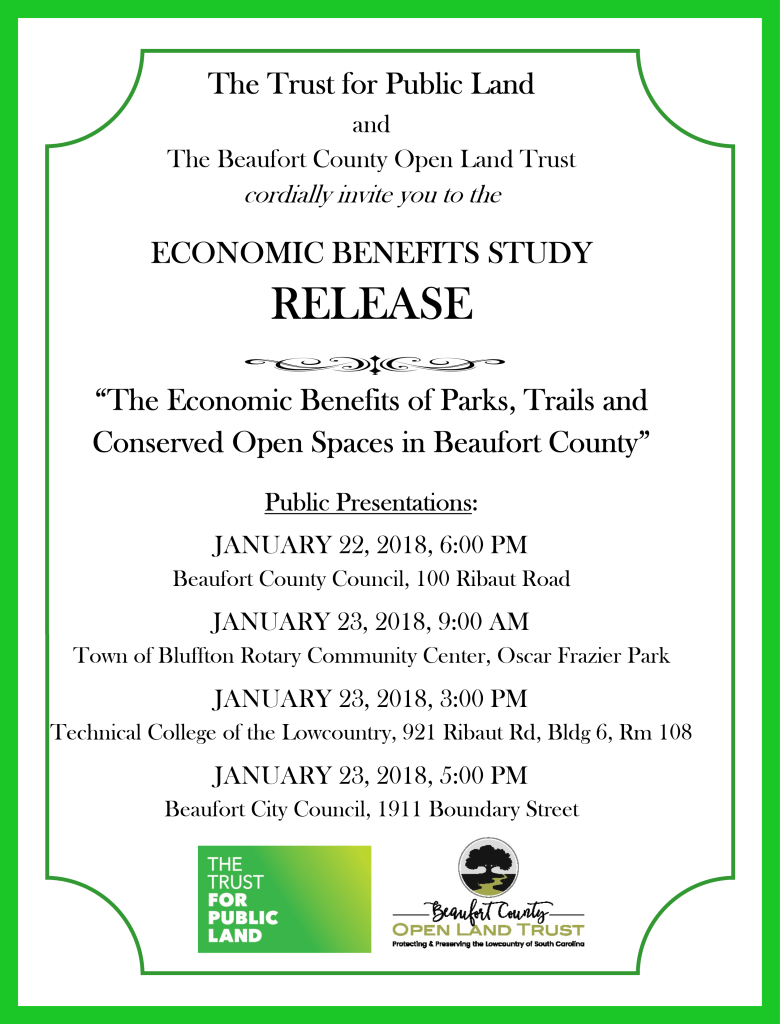 The Beaufort County Open Land Trust, in conjunction with The Trust for Public Land in San Franciso, will present findings of a report "The Economic Benefits of Parks, Trails and Conserved Open Spaces in Beaufort County" on Feb. 22 and 23rd at several locations in Beaufort and Bluffton.
The first presentation will be held Monday, Jan. 22, at 6 p.m. in County Council Chambers on Ribaut Road.  On Jan, 23, presentations will be held in Bluffton at 9 a.m.; at the Technical College of the Low County in Beaufort at 3 p.m.; and a final presentation at 5 p.m. in Beaufort City Hall.
Click on the image to the left to see all the details.

Keep Home Rule Strong – Write State Rep Shannon Erickson
House Bill 3529 has been introduced to limit the ability of local SC counties and municipalities to ban the use of "auxiliary containers"  – which in this instance, specifically means single-use plastic bags.
Plastic industry lobbyists have been successful in convincing some members of the state legislature that the state – not local counties or municipalities – is best equipped to decide when local prohibitions on such things as single-use plastic bags are being considered.
The Sea Island Corridor Coalition has not taken a position on single-use plastic bags, but we do oppose further restrictions on home rule, and the ability of local governments to make local decisions on some matters affecting local communities. We do believe that the governments closest to the communities they govern are best equipped to make such decisions.
Please take a minute to e-mail your state Representative or the Sea Island Parkway's State Representative Shannon Erickson. Ask that they oppose House 3529, and allow local communities to continue making these decisions for themselves.